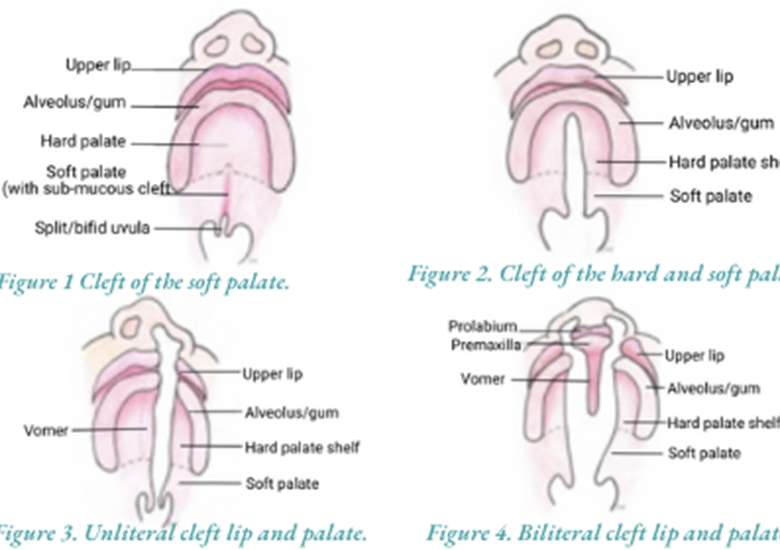 A cleft palate occurs when there is a lack of fusion between the upper parts of the roof of the mouth. This occurs during the first three months of pregnancy. A cleft palate can occur with or without a cleft lip. Cleft palate is one of the most common birth  anomalies and occurs in about one in every 600 to 700 births in Ireland.   
Image: With kind permission from Catherine DeBlacam Dublin Cleft Centre www.cleftcareireland.ie
A cleft palate presents in different ways, ranging from a small split of the upper lip or the soft palate to a cleft stretching from the upper lip, through the gum, the hard and soft palate. Moreover, the cleft can occur on one side of the face (i.e. unilateral) or both sides of the face (i.e. bilateral) (figures 1– 4). Because Cleft Lip & Palate is one of the most common birth anomalies in Ireland. There is a wealth of surgical, therapeutic and other specialist expertise and supports in Ireland for children born with this difference.
What problems are associated with cleft palate?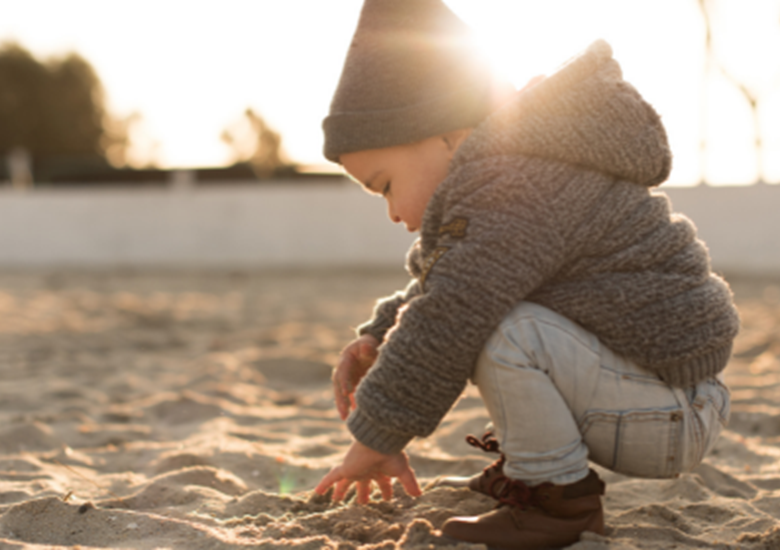 Feeding can be difficult for some new born babies, as the unrepaired cleft palate results in an inability to create pressure in the mouth in order to suck effectively.  A member of the cleft team will assess feeding and provide advice and support along with specialised bottles and/or teats.
All children will need surgery to repair the cleft palate and/or lip. A surgeon who specialises in cleft lip and palate will see children within the first month and advise parents on the type of surgery that will be required. A cleft lip is usually repaired at around three months, and the palate repaired between 6 and 12 months in the UK and Ireland? If a child has a cleft in the gum this is usually not repaired until they are older when the permanent teeth erupt. The surgeon will assess the children as they grow to monitor facial growth, appearance and speech, and advise if any further surgery is required
Children with cleft palate may have additional problems with hearing, dentition and psychosocial development. It is important to note that not all children will have all the problems. However ongoing care is provided by a multidisciplinary team including Orthodontists, Ear, Nose and Throat (ENT) consultants, Audiologists, Psychologists and Paediatric Dentists who will monitor all areas of development. 
Language difficulties may be evident in children's inability to understand what is being said, but more commonly, toddlers with cleft palate are delayed in their expressive language so that expressing themselves can be a problem. For example they may have a small vocabulary for their age, or be unable to string words together to make sentences or have poor grammatical skills.
Speech difficulties are common in children with cleft palate, with between 50% and 60% of children requiring speech and language therapy intervention.
Speech difficulties may include nasal tone, nasal airflow (puffs of air down the nose during sound production) and specific difficulties in making speech sounds (articulation), sometimes referred to as cleft speech characteristics. These cleft related articulation difficulties are due to the sounds being produced further back in the mouth and throat.
Children may also present with a delay in development of speech where they have difficulty in learning the rules of how sounds are used in the language.
Speech errors can be due to structural problems and/or learnt patterns of sound production. Structural reasons include:
!) the soft palate being short and unable to close off the nose during speech or the muscles of the palate not working properly or
2) there can a hole (fistula) in the roof of the mouth allowing air and sound to escape down the nose.
Learnt problems are more common and are usually successfully managed with speech and language therapy.
Children will often be under the care of two speech and language therapists, one in the cleft centre and one in their local community care centre. They work together to support the development of normal speech and language.
Shortly after birth, the children are referred by the cleft therapist to community services where they should be seen at 9-12 month to assess early communication and provide advice on speech and language development.
At 18 months and 3.5 years the children will be seen by the Cleft Team and offered an appointment with a cleft specialist speech and language therapist, to identify any problems that may be specifically related to the cleft palate.
Early intervention is recommended if young children have speech and language difficulties, when the therapist will give parents activities to do with their child to help promote speech and language development and progress should be monitored.
Direct therapy i.e. where the therapist works directly with the children and parent/caregiver, usually begins at around 2½ to 3 years when the child is able to cooperate and copy sounds.
Ideally children should be seen for therapy at least once a week for several months and often short breaks from therapy are recommended.
Therapy may be ongoing for several years usually until the children can produce clear intelligible speech.
There is a growing body of evidence that trained parents can work effectively with therapists to support the provision of therapy to help their children's speech development (see

 

www.speechathome.org).
Some children, (20% - 40%) present with a speech problems related to the structure i.e. a short soft palate or the muscles not working properly, resulting in a nasal tone, nasal airflow and/or certain articulation problems. The cleft therapists will identify these problems and further investigation of palatal function may be required. This usually involves an x-ray which allows movement of the palate to be viewed when speaking, and sometimes passing a scope along the nasal passage to observe the palate and back of the throat during speech.

See http://cleftcareireland.ie/treatment/palate-investigation-clinics. If structural problems are identified, the cleft therapist and plastic surgeon will review the children together and further speech surgery may be required. Ongoing therapy may be necessary after this surgery.
The Cleft Palate and Craniofacial Committee IALP: Frequently Asked Questions by Speech-Language Therapists on Cleft Palate +/- Lip; Evidence-Based Answers
Read here
Cleft Care Ireland: The aim of this website is to educate parents and carers about the condition of cleft lip and palate and to reassure you that your child can lead a healthy and happy life.
Visit Cleft Care Ireland