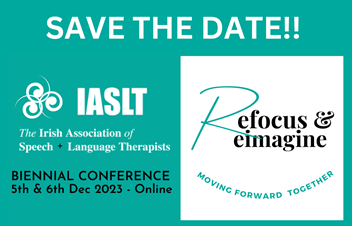 Call for Abstract Submissions
The Irish Association of Speech and Language Therapists (IASLT) is delighted to announce that IASLT Biennial Conference 2023 "Refocus and Reimagine - Moving Forward Together" is now accepting abstract submissions. This year's conference will take place online on 5th & 6th December 2023.
The IASLT Biennial Conference 2023 will be an occasion to celebrate the achievements of Speech and Language Therapists in Ireland and beyond, and to acknowledge the continuing endeavour towards professional excellence.
IASLT Conference 2023 promises to be our most inclusive to date, offering an opportunity for speech and language therapists from all specialisms and sectors in Ireland, and the rest of the world, to come together virtually for two days of learning, connecting and recharging.
The event will feature oral and poster presentations, parallel and plenary sessionsand keynote speakers on topics covering a wide range of adult and childspecialisms.
Our call for abstract reviewers for IASLT Conference 2023 is now open
https://docs.google.com/forms/d/e/1FAIpQLSfOce2aKJSsllZ76_7Rb8ykGhH-agAHpsZ0Fz7ohz2_q6cU5w/viewform?usp=sf_link
If you are interested in this CPD and learning opportunity, are CORU registered please consider getting involved.
To submit your abstract, please go to: https://iaslt2023.exordo.com
This will be a great opportunity to showcase your research to SLT colleagues.
Further details on how to register to attend this event will be available soon https://www.iaslt.ie/learning-centre/iaslt-biennial-conference-2023/